The Bells of St Michael the Archangel, Kirkby Malham
Contents: Ringing Contacts Directions Bells Points of interest Quarter-Peals Photos Recording Links
News 2010
The ringing room has gone up from the ground floor to a raised ringing room. The first ring in the new raised ringing room was on Sunday 13 December 2009, and a Service of Dedication and Thanksgiving for the completion of the "West End Project" was held on 27 July 2010. The ringers are very grateful to the many Yorkshire towers who were very generous and supportive in response to the quiz sheets, and many other donors and the local congregation who have been extremely generous in fund-raising for this project.
As from May 2010, practice time is 7.30-9pm all year round (no more different timings for winter and summer). Practice night is Tuesday.
St Michael the Archangel has a ring of eight bells (having been rehung and augmented from the previous set of three bells in 2002).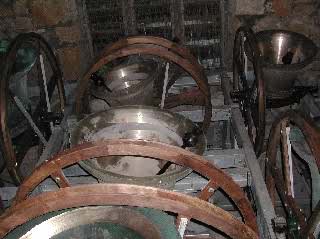 Kirkby Malham Bells; click on image for larger view
Ringing
The bells are rung on Sundays (9.15am-10am) for morning service at 10am.
Practice night is on a Tuesday evening. The tower has a simulator using Abel which is used at practices. On the second Sunday of the month, there is often a quarter peal attempt in the evening.
The bells are also rung for weddings and funerals, by arrangement.
Visitors and new ringers are always welcome. Please make contact to check times if visiting.
One of the tower's ringers featured in an article about ringing at Kirkby Malham in 'Connection' which is the magazine for Barclays Bank pensioners. An extract from the magazine with the article (cover page and one-page article) is available here as a PDF provided thanks to and with permission of Barclays.
Contacts
The Tower Captain is George Parker who can be contacted on:
Directions
Kirkby Malham is in the heart of the Yorkshire Dales: see http://www.streetmap.co.uk/ for a map. The Grid Ref for the Church is SD 8939 6096. The nearest train stations are Settle (7 miles away) and Skipton (10 miles away): see http://www.nationalrail.co.uk/. Skipton station may be better for bus connections. For enquiries regarding local transport, see:
On entering the village from most directions, the Church is easily visible. The road to the Church is up the lane at the corner of the Victoria pub. Parking for the church is available along this same lane. The bells were a ground-floor ring inside the church and access is via the main church door; the church has disabled access. In 2009, a raised floor was put in for the ringing room, and access is via a short narrow spiral staircase. The steps on the staircase have been lined with wood.
Bells
The bells were originally a set of three. The three bells were rehung and augmented to eight during 2002 by Eayre and Smith, now part of Taylors Eayre & Smith (http://www.taylorbells.co.uk/) following a successful appeal and fund-raising by bell-ringers, congregation and community raising £60,000 to finance the work. The new set of eight bells was first rung on 19 July 2002. They were dedicated on 6 October 2002 by the Archbishop of York. The original three bells are included in the new ring of eight as bells 6, 7 & 8. The tower dates from 1495.
The three original bells retain their canons and are fitted with specially designed canon-retaining headstocks of spheroidal graphite cast iron. The other five bells are fitted with web section headstocks of the same material. All eight bells rotate on self-aligning ball bearings. The strike note of the tenor is 33 cents (33 hundredths of a semitone) sharp of E natural.
The bell-frame is of fabricated steel, hot-dip galvanized against corrosion. Previous to the work in 2002, the frame was of wooden construction by Mallerby of Masham and was 150 years old. The new frame was made by Bentleys of Silsden.
Details of bells in Kirkby Malham Church
Bell
Weight
Pitch
Diameter
Origin
1
5 cwt. 1 qrs. 3 lbs.
591 lbs
267 kgs
1344Hz
E+33 cents
28.125"
71.5 cms
Cast by Royal Eijsbouts, Holland 2002
2
5 cwt. 2 qrs. 5 lbs.
621 lbs
281 kgs
1269Hz
D#+33 cents
29.000"
73.5 cms
Cast by Royal Eijsbouts, Holland 2002
3
6 cwt. 0 qrs. 21 lbs.
693 lbs
313 kgs
1130Hz
C#+33 cents
30.625"
77.8 cms
Cast by Royal Eijsbouts, Holland 2002
4
5 cwt. 3 qrs. 23 lbs.
667 lbs
302 kgs
1002.5Hz
B+26 cents
32.250"
82.0 cms
ex Gamlingay, Cambs; cast by Warners 1897
5
8 cwt. 1 qrs. 21 lbs.
945 lbs
427 kgs
897Hz
A+33 cents
35.125"
89.2 cms
Cast by Royal Eijsbouts, Holland 2002
6
10 cwt. 3 qrs. 16 lbs.
1220 lbs
553 kgs
842.5Hz
G#+25 cents
38.750"
98.5 cms
Cast by William Oldfield, Doncaster 1617
7
13 cwt. 0 qrs. 7 lbs.
1463 lbs
662 kgs
748Hz
F#+19 cents
41.250"
104.7 cms
Cast by Robert Dalton, York 1785
8
17 cwt. 2 qrs. 16 lbs.
1976 lbs
894 kgs
672Hz
E+33 cents
46.000"
117.0 cms
Cast by William Oldfield (elder) 1602
Information kindly provided by Eayre & Smith, now part of Taylors Eayre & Smith (http://www.taylorbells.co.uk/). 100 cents = 1 semitone so 33 cents is 33% of a semitone
Details of inscriptions on bells in Kirkby Malham Church
Bell
Inscription
1

Eijsbouts Astensis me fecit Anno MMII
One Lord + One Faith + One Baptism
Trinity Ecumenical Parish, West Virginia, USA

(Note: given by Trinity Ecumenical Parish, Moneta, in Companion Diocese of Southwestern Virginia)

2
Eijsbouts Astensis me fecit Anno MMII
The Scosthrop Millennium Bell
Given by Ann Marie J Harris, Deo Gratias
3
Eijsbouts Astensis me fecit Anno MMII
Donated by Airton Parish 2002
4
Cast by John Warner & Sons Ltd. London 1897
Hung by Day & Son - Eye
James Syme Physician RIP
The Sharp Family of Skellands
5
Eijsbouts Astensis me fecit Anno MMII
To the Glory of the Great Architect
Donated by Local Freemasons 2002
6
X God be ovr Speed both now and ever 1617
7
Soli Deo Gloria
Dalton Fecit York 1785
8
God Save Ovr Church ovr Queen and realme
Iosias Lambert Esqvier 1602
The tower clock is by Potts of Leeds and dated 1881. It is a flatbed design with a gravity escapement.
Points of interest
There are several points of interest relating to the bells beyond the bells themselves:
Peals and Quarter Peals
Details of Peals and Quarter Peals may be found at http://www.campanophile.co.uk/.
Photos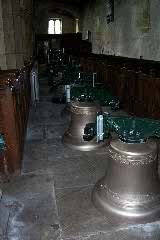 Kirkby Malham Bells: new bells lined up in preparation for lifting into the tower July 2002
click on image for larger view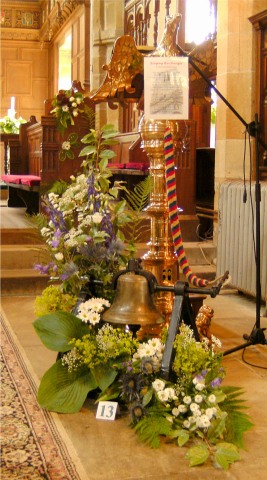 Bellringers' Flower Arrangement from 2009 Flower Festival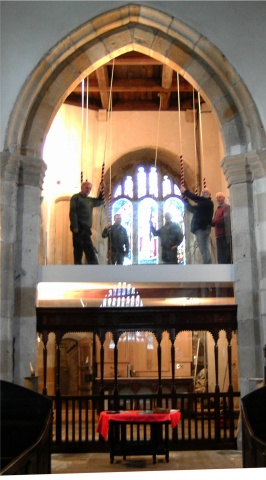 Going up in the world: the raised Ringing Room (Dec 2009)

Going up in the world: the raised Ringing Room (Dec 2009)
Recording
A professional recording was made on 21 February 2006 of the bells being rung.
A CD of the recording is being sold in aid of the project to create an upstairs ringing room. With over 56 minutes of ringing, the CD contains performances by a guest YACR Western Branch team who perform a 23 minute touch of Grandsire Triples and a course of Yorkshire, and it also includes ringing by the local band.
A 90 second sample of one of the tracks (Grandsire Triples) from the recording is available here (1.3Mb WMA file). If you would like to buy a copy of the full CD, it is available by post:
The CD was recorded and produced by Charlie S Brown: web: http://www.soundman.org.uk.
Recordings are © Kirkby Malham Bell Fund 2006.
Links
The following small selection of links may be useful (links to external websites will open in a new browser window):
If you are looking for self-catering holiday accommodation, one of the tower's ringers has a luxury apartment sleeping two people in a converted mill within walking distance of the church. Please visit: Mill Top Holiday Accommodation.
© Kirkby Malham Bells 2004; last updated 2010