Malhamdale Broadband Update
Malhamdale Broadband Update 11/05/15
Superconnected Craven Broadband Connection Vouchers
Almost all businesses in Craven can now apply for a grant of up to £3,000 to fund the costs associated with connecting to fibre or wireless broadband at superfast speeds.
The Superconnected Craven scheme supports small and medium sized businesses, social enterprises and charities with a 'connection voucher' to fund eligible costs such as surveys, cabling, routers, and connection fees.
The scheme operates through a simple application process with over £40 million of vouchers available in England on a first come first served basis. Following submission of a completed application most businesses will receive a decision on their connection voucher within three working days. It is anticipated that all vouchers will be allocated by December 2015. 'Superfast' broadband typically refers to download speeds of above 30 megabits per second. Connection Vouchers can be used to support a variety of technical solutions, including both wired and wireless connections. As well as meeting the ongoing running costs of the broadband connection, the applicant will need to pay for the VAT on the connection charge.
As a member of the Leeds City Region the Craven scheme is administered by Leeds City Council on behalf of the District Council through the Superconnected Cities scheme.
Further information on how to apply, including frequently asked questions and details of approved suppliers can be found at www.superconnectedcraven.co.uk or by calling 0113 395 0357.
Malhamdale Broadband Update 8/05/15
Ladies and Gentlemen, I believe phase 1 superfast broadband, which you may remember, covers Airton, Calton and up to the school, is now active. I use BT, and have just succeeded in placing an order with BT their product Infinity2 which because it is fibre to the premise (FTTP) should give 80Mb download and 20Mb upload. To check if superfast broadband is active on your line, I suggest you go to the BT Openreach site, and there is a place to enter your phone number. I had a look at ordering from BT online, but was not sure that the website was doing the right thing, so I ordered by phone – 0800 587 4787. I tried to see if providers other than BT were ready to take orders, but I am not sure that they were. If you are with another provider, then you may need to contact them to see if they are ready to take orders. At this stage, I do not have information on phase 2, (which from a previous communication indicated that this covers Malham, Bell Busk and Hanlith) but if you check on the Openreach site, you may get an indication on availability. I have just talked to Ian Marr at Superfastnorthyorkshire, and, if you have not registered an interest with them, he urges you to do so, since they will contact you soon after the system goes live. Best wishes, Ted Ellis
Malhamdale Broadband Update 16/03/15
I am sure you have all seen work in the dale by Openreach and their contractors. Firstly laying the tube into which the fibre bundle is blown, and more recently seeing them work on inserting the fibre. I do not have a date when that will be completed, but when talking to some of the contractors, I heard that we are now a priority. I have been told by Ian Marr (Superfastnorthyorkshire) that they are on the cusp of completing phase 1 which includes some of Malhamdale.
However, I do have excellent news which I have just received this evening from Susan Hargadon at Superfast North Yorkshire. Here is her email.
Good Afternoon Mr Ellis, I am contacting you in relation to phase 2 of the Superfast fibre broadband. You will be probably be aware that SFNY has recently secured additional funding of £8m which will be used to extend fibre based broadband coverage to a further 11,000 premises across North Yorkshire. The rollout of this Phase 2 will commence in April 2015 and be completed by the end of 2016. The current plan shows that Bell Busk, Hanlith and Malham is included within the Phase 2 roll out. However it is too early at this stage to say when the superfast broadband service will become available. Therefore please continue to check our website www.superfastnorthyorkshire.com for the latest details and, if you have not already registered your interest, please do so and I will keep you informed of progress. Just to let you know that the maps that will show coverage will be updated to show this information in the next few weeks and will be available on our website.
Kindest regards Susan Hargadon
Community Project Executive - Superfast North Yorkshire
If I get any further information, I will let you all know. If you have not already done so, then I suggest you do register, as requested with superfastnorthyorkshire.
Best wishes, Ted Ellis
Malhamdale Broadband Update 20/10/14
According to the Openreach website, the date for Airton Exchange to come on line has now slipped from September 2014 to March 2015. This is obviously very disappointing. I have been in contact with Superfast North Yorkshire and got the following response from Ian Marr.
"BT are needing a little more time to complete Phase 1. Around 98% will be completed by the end of the year but some may take as long as the end of March'15. They are working hard on all of the remaining areas of Phase 1 and striving to get as many connected as soon as possible. With a civil engineering project the size of SFNY, the challenges are getting to the later and more remote places. I do not have, at this stage, an indication of where you will fall in this outstanding work."
We have all been able to see BT contractors laying the ducting through Airton and Kirkby Malham, but talking to the contractors, there are problems. For example, they have not been able to lay the ducting over the steam in Kirkby Malham. I have also asked Ian about fibre to the remote node (FTTrN) which may be a possibility for Malham and other areas, and this is his response. "I do not expect any news on FTTrN for some time - still not known if it will be a 'goer' or not. Could be well into 2015 before we know one way or the other." Sorry there is no better news. Best wishes, Ted Ellis
Malhamdale Broadband Update 14/7/14
According to the Openreach website, the timing for Superfast Broadband into the Airton exchange has slipped from June 2014 to September 2014. In some ways this is not surprising since we have not seen fibre cables being installed up the dale through Airton and Kirkby Malham. Let's hope that BT can meet the revised timescale.
I am conscious that the initial fibre rollout does not cover the whole dale, and so have asked Ian Marr at Superfast North Yorkshire for an update on the whole situation for us. His reply is below.
"BT remain on target with delivery overall, but various locations have moved up or down the delivery programme due to (mostly) civil engineering challenges.
They are due to complete the current work (Phase 1) by October this year, so it is all homing in on the final picture.
We will be allocating further funds to BT for a Phase 2. This will see more communities brought up to superfast speeds, but it is still a bit early to understand where these are and when it is likely. BT will be picking up the planning and then delivery of Phase 2 once they get clear of Phase 1. In reality, Phase 2 will be delivered during 2015/6.
Phase 2 has two elements,
More Fibre to the Cabinet (FTTC) where they are able
The potential for a developing technology called Fibre to the remote Node (FTTrN).

FTTrN is undergoing trials and if it proves effective could extend further BT's ability to deliver superfast speeds. FTTC tends to pick up communities with 120-500 premises and FTTrN could be cost effective down to 30 connections. It is going to be the end of this Summer at the earliest before we know if this will play a part in the final plan, and if so where."

One thing that I suggest people who are not on the initial line of the fibre installation can do, is let Andrew Laycock at Craven District Council know of your interest in Superfast Broadband. Andrew is our local contact, and has a particular interest in supporting broadband for business activities in the area, as well as broadband for individuals. Andrew's email is ALaycock@cravendc.gov.uk.

If I get any further information, I will let you know. Ted Ellis

Malhamdale Broadband Update 24/3/14

Superfast fibre optic broadband.

The Airton exchange is now scheduled to be updated to fibre optic broadband by the end of June 2014. This means that those people who are lucky enough to get fibre to the premises, should be able to get superfast broadband within 2 or 3 months of that date. Those who can get this access are essentially on a corridor that is scheduled to run along the road from the exchange to the school for properties close to the road. You can find details of this coverage on a map on 'Superfast North Yorkshire's' website. If you have not already done so, I suggest you register your interest with 'Superfast North Yorkshire' who will then contact you when connections are available in our area. To register, go to the Superfast North Yorkshire website, click on 'Where and When', and in the script you will find a link to register.

Superfast broadband outside the fibre corridor.

I have had a discussion today with Ian Marr from Superfast North Yorkshire. He tells me that they have obtained additional funding which will enable them to extend coverage to areas such as Malham which are not within the current scheme. Again, I urge as many people as possible to register interest with Superfast North Yorkshire, so that when details of how this funding should be spent, our area is high on the list.

Attached are 2 documents which Ian Marr let me have today. The word document is a short press release which confirms North Yorkshire CC approval of the funding and gives a general overview. The pdf document gives much more detail of the programme, and may be of interest to some.

It seems to me that progress is being made on all fronts, and some areas will get superfast broadband before the end of the year, whilst the rest should not be too far behind.

Ted Ellis

Superfast Broadband North Yorkshire Project Report Click here to read the report

Broadband Superfast Update March 2014 North Yorkshire Superfast Broadband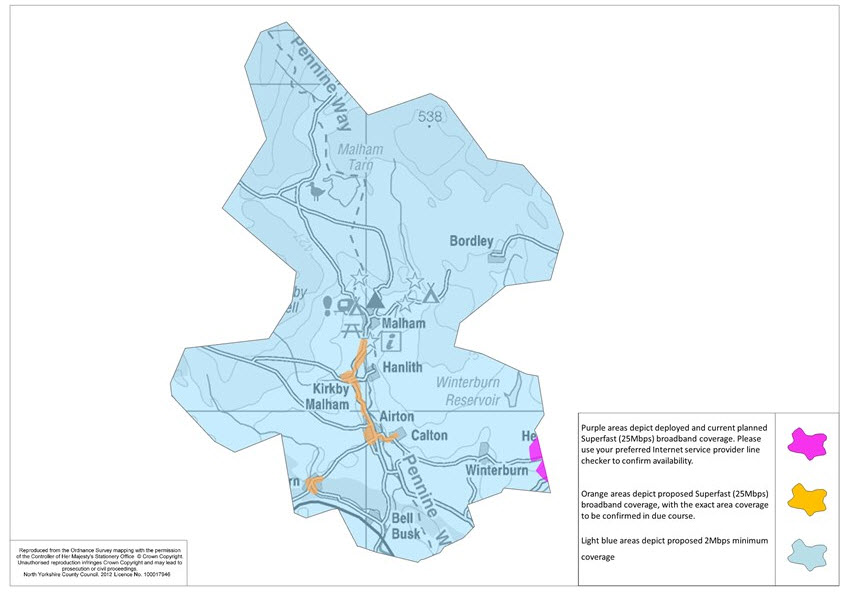 Superfast Broadband North Yorkshire Where and When North Yorkshire Superfast Broadband
Update January 2014, It is some time since I updated you on the situation in Malhamdale as I understand it, so this is the latest information which I have.
Fibre Optic broadband.
It is good to note that the Airton exchange is still scheduled to be upgraded in calendar year 2014. This is encouraging, since some exchanges have slipped into 2015. At the end of November, I went to see a small exhibition by BT and Superfast North Yorkshire in Boroughbridge. The BT man said that they expected to get superfast broadband to customers about 3 months after the exchange was upgraded. However, Ian Marr, who is my contact at Superfast North Yorkshire is more conservative than that. You will remember that the fibre optic link is scheduled to give access by fttp (fibre to the premises) to people living close to the main road from the exchange to around the school. At the exhibition I was fascinated by 2 things in particular. When fibre reaches a cabinet or telegraph pole, one fibre can be split through a device called a multiplexer to give 32 fibres out each with huge broadband capability. Secondly, the fibre can be sent from the pole to the house, by blowing it in a small tube which is connected to the house. Apparently, it is possible to blow fibres up to 1200m. So, for people who will get fibre direct little has changed, and it should be here it not much over a year.
Premises outside the fibre path. Houses in Malham, Hanlith and Calton and others away from the main road are in the final 10% of properties to get superfast broadband. About 9 months ago when I started doing this, I thought that the Company 'ilovebroadband' were a possible candidate for providing all the Dale with broadband. Whilst they do supply Malham Moor by a link which flies over the Dale, they did not show enthusiasm for tackling the more difficult problem of beaming their signal into the Dale. Superfast North Yorkshire are the agent who are trying to facilitate and promote superfast broadband, and I find them very helpful and constructive. I have had the response below from Ian Marr today about the situation here.
We offered out the area to local community internet service providers to gauge their interest in a purely commercial scheme, but only received their respective interest in providing partial coverage. This is not sufficient to enable us to move ahead as it would make the some parts of the area even more difficult to solve. It is important to seek a '100%' coverage solution.
It now looks like we will need to solve the last 10% areas of Malhamdale in the same way as the other parts of North Yorkshire's last 10%.
This is something which is receiving national as well as local attention. As a pilot authority, we are currently initiating a procurement process with a view to letting a contract to provide the required service beyond the commercial and current public funded areas.
The early part of this involves undertaking an Open Market Review to assess the 'last 10%' intervention area as it will stand after current investment and also market engagement to see if there are actually companies out there with the size and scalability to deliver high speed broadband across North Yorkshire. If this proves positive, the expectation is that we will then set about the formal procurement process. How this pans out geographically will very much depend on the prospective suppliers ability to scale up, but we will probably be looking to split the county up into several 'lots'. I think the very earliest we can expect to be awarding any contracts is in the Autumn of this year.
Available finance will also dictate the pace. We are lobbying central government, but currently the £250m available nationally does not come on stream until at least 2015. Not quite the outcome we might have wanted, but please be assured we continue to work towards our wider Vision of 100% of premises in North Yorkshire having access to high speed broadband by 2017. Kind regards, Ian
This is not the outcome that I was hoping for. Clearly Ian has to go for 100% coverage, but I wonder whether there is any mileage in us trying to identify a way forward which will deal with a good proportion of the Dale not covered by fibre. Any ideas?
Personal observations
I started doing this because my internet connection was awful. The best speed I ever got was 2.8Mb/s, and when children came home from school and other busy times, it dropped to 1Mb/s, 0.5Mb/s and ever lower. I talked to people in the Dale who used BT, and they seemed to get a better speed, even if they were further away from the exchange than me. I had already decided to use BT when the time comes to go to fibre, but decided to move early, and did so at the end of November. Since then, the speed I get does not vary over the day, and in a series of steps over a few weeks it has increased from 2.8Mb/s to 3.5Mb/s and is now at 4.3Mb/s. This is still not superfast, but now iPlayer works, but probably not in HD.
Best wishes, Ted Ellis
Update April 2013, I have now received 27 responses to the note I put in the Parish magazine about getting faster broadband through ilovebroadband.
I have now talked to them to identify the next stages.
The first thing they need to do is to establish the feasibility for them to put in appropriate repeater stations to enable them to supply each of the people interested. To do that they need the addresses and postcodes of all people interested. The main purpose of this email is to ask those of you who did not give me an address with your expression of interest to send me it now. I will collate these and forward them with your permission to ilovebroadband.
Until they have made the assessment, there is no guarantee that they can provide the service. However, if they do, they envisage a timescale of 3 to 4 months, this may take longer if planning permission is needed. Once they have done the assessment, they will be able to give a proper indication of the speed that they expect to be achieved.
Whilst the number of responses we have is clearly of interest to them, the more we get, it will encourage them to put in the best service, so, I would ask you to encourage neighbours to respond. For new people, rather than respond to me, it would be better if they filled in the form on the Malhamdale website under the heading 'Broadband Update 2013' and follow the link in the middle of the update, this now asks for all the relevant details. They just need to follow this link - Malhamdale Broadband Expression of interest only, please complete this form so we can collate names.
Many thanks, Ted Ellis
Malhamdale Broadband Campaign, Broadband speeds in Malhamdale appear to be getting worse not better, if we all come together we can do something about this, Malham Moor and other local communities have Satellite Broadband and if we can get 30 people to express an interest the supplier may be able to extend the Malham Moor Scheme and we can have our own Malhamdale Broadband Service.
To express your interest please fill out the Malhamdale Broadband form by clicking here! Malhamdale Broadband Form
or let Ted Ellis know if you would be interested in this option, dependant on cost & speed, etc on Register your interest (no obligation at this stage).
More information on Rural Broadband
Rural Broadband Partnership for Communities Rural Broadband Partnership
Superfast North Yorkshire Superfast North Yorkshire Business Support
Broadband North Yorkshire
October 2010 update, North Yorkshire has been selected as one of the market test areas for superfast broadband by the Government.
It's a major boost for the campaign to get the county connected and opens up many exciting opportunities in the weeks and months ahead.
Broadband North Yorkshire are also organising a Broadband Conference in February 2011 in Ripon. The Conference is being organised following North Yorkshire being named one of the market testing areas for superfast broadband by the Government.
You can find out more and subscribe to Broadband North Yorkshire updates on the Broadband North Yorkshire Website here
or you can follow Broadband North Yorkshire on Twitter here
You can also read the PDF document Why North Yorkshire should have Superfast Broadband here in support of the campaign
BT Race to Infinity
The more people you click below and show an interest the more likely we are to be considered for FAST broadband, please click and enter your postcode.
BT might be investing in the future of our internet by rolling out next-generation fibre optic broadband. Join The Race to Infinity today and your area could be next to enjoy superfast speeds. Click here and enter your postcode, no obligation to buy & you do NOT have to be a BT Customer
Previous Broadband campaigns
Broadband in Malhamdale??
We hit our activation level and the Airton Exchange was activated on the 23rd March 2005!!
Broadband is now available in Malhamdale via the BT Airton exchange or by alternative satellite connection on Malham Moor.
Malham Moor Network can now provide a wireless broadband link to all the farms and businesses on Malham Moor via the satellite dish at High Trenhouse. The latest to be connected are the people at Lee Gate and Newhouse Farm. This has required a repeater station high on East Great Close, which has taken a lot of work over the last year and is still to be upgraded to provide a good service.
Further details and for more information e-mail Mike Spence or Tel 830445&nbsp
Register an interest for BT Broadband or phone BT on 0800 800 150
Benefits of broadband include: instant connection, unlimited access with no time restrictions; flexibility to use the phone and surf at the same time; high speed, up to 10 times faster than a normal connection...