Malham Cove
Malham Cove is a huge curving amphitheatre shaped cliff formation of limestone rock.
The vertical face of the cliff is about 260 feet high. The top of the cove is a large area of deeply eroded limestone pavement, of a strange pattern rarely seen in England. The majesty of Malham Cove looks out over the Village of Malham and has been attracting visitors for centuries.
For Malham Cove Waterfall 6th December 2015 see this page Malham Cove Waterfall
For the Julia Bradbury Malham Cove Walk see this page Walking Malham Cove with Julia Bradbury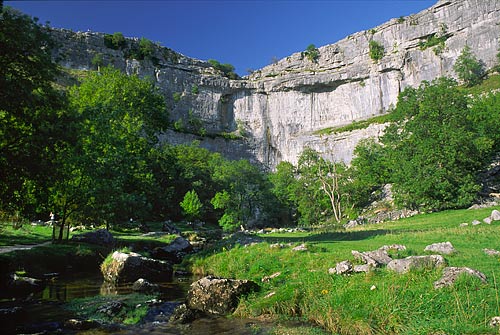 Photo © Paul heaton
Location: Malham Cove gr 897642 OS Map: 98, From the middle of Malham village walk up Cove Road (keep left walking up the village) for approximately 300 yards and the Cove will come into view.
Access: Open all year, a good footpath leads from the road to the foot of the Cove and steps lead up to the Limestone Pavement on the top of the cove (note no parking is available at this location you must park in the Yorkshire Dales national park Authority Car Park or in the village).
Size: approximately 80 metres high and 300 metres wide (a 260 foot high by 984 foot long curved crag).
Malham Cove also affords brilliant views down the dale towards Malham and beyond.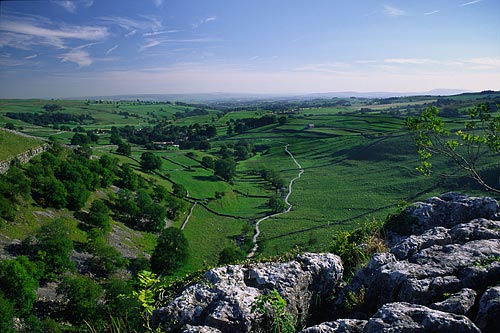 Photo © Paul heaton

Peregrine Falcons and Little Owls make the Cove their home Further information

Malham Cove has been the source of inspiration for many works of Art and Literature and features in many walking Books.

Malham Cove was featured on TV in the BBC's The Trip Steve Coogan at Malham Cove from the BBC The Trip and also in the latest Harry Potter film from Warner Bros, Harry Potter and the Deathly Hallows Harry Potter at Malham Cove

Limestone Pavements are a feature of Malham Cove and surrounding areas with the Clints (the blocks of limestone) and Grykes (the gaps) creating a unique wildlife habitat or micro-climate for rare wild flowers and ferns such as wood sorrel, Herb Robert, Green Spleenwort and Wall Rue. see Geology page for further information

Limestone Pavement Action group, website contains some very good limestone pavement specific information for further study.

Harry Potter and the Deathly Hallows, Harry Potter seen camping at Malham Cove! Scenes for Harry Potter and The Deathly Hollows were filmed all around Malham including Malham Cove, the limestone pavement, Malham Tarn and Gordale Scar.

Sorry but NO CAMPING at The Cove at any time, please use the campsites in Malham.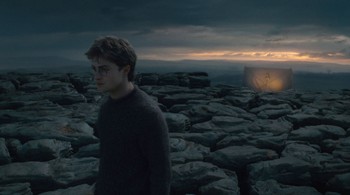 Photo © Warner Bros
A brief sketch about Malham Cove & Limestone Pavements from the BBC's "The Trip" with Steve Coogan
More photos from Paul Heaton Photography, available on the fotocraft images website.