News
Anything thats going on in and around Malhamdale...
Underlined links take you to another page with more information
Malhamdale Car Boot Sale
Bank Holiday Monday August 31st, 10 am - 4 pm (sellers from 9am) To be held opposite the Malham Show Field, just before the village of Malham (BD23 4DA) Cars £10, cars with trailers/vans £15. To book a pitch please e-mail Malhamcarboot@outlook.com or phone 07973 576638.
The car boot sale will be held in the beautiful village of Malham, with views of Malham Cove from the field. There will be refreshments including hot and cold drinks, bacon butties, homemade sandwiches, cakes and other goodies with undercover seating available. Kids activities will run throughout the day making it fun for all the family! Refreshments and kids activities are available to all and admission is free, regardless of whether you fancy some bargain hunting! All proceeds will go to the Kirkby Malham Church roof appeal to help repair our ancient and beautiful church following a recent attack by lead thieves. Please come along and support us.
Malham Show 29th August 2015
Malham Show will be held on August Bank Holiday Saturday with lots of superb exhibits and plenty to entertain all the family, this traditional family Dales Show is always one not to be missed Malham Show Website
RSPB Malham Cove Peregrine Watch 2015
The Malham Peregrine RSPB team return to Malham Cove for another year, from the 4th April to 2nd August the RSPB will be on site 10.30am - 4pm, Saturday to Wednesday with binoculars & telescopes to help you spot the wildlife around the cove and catch a glimpse of the Malham Peregrine falcons. More info on Malham Peregrine Watch
Malham Show 23rd August 2014
Malham Show will be held on August Bank Holiday Saturday with lots of superb exhibits and plenty to entertain all the family, this traditional family Dales Show is always one not to be missed Malham Show Website
Malham Peregrine Watch RSPB returns
The Malham Peregrine RSPB team return to Malham Cove for another year, from the 30th of March to 31st July the RSPB will be on site Saturday to Wednesday with binoculars & telescopes to help you spot the wildlife around the cove and catch a glimpse of the Malham Peregrine falcons. More info on Malham Peregrine Watch
Malhamdale Meander
Malhamdale Meander will be held on the 11th of May 2013, this fantastic long distance walk covers all the sights of Malhamdale. More info here Malhamdale Meander
The Dales, Series 2, ITV
The Dales on ITV, returns for series 2, Ade Edmondson visit's young local farmer William Wildman as he prepares for Malham Show and Ade checks on progress for the new on farm butchery. ITV 8pm Starts Feb 27th 2012 for 12 weeks. More info on The Dales page
Malham Summer Bus Services 2012
The following services will run every Sunday and Bank Holiday from 8th April until 21st October 2012:-
Malham Tarn Shuttle 881: Skipton – Malham – Malham Tarn – Settle – Ingleton
Cravenlink 883: York – Harrogate – Otley – Ilkley – Skipton – Malham
Cravenlink 884: Ilkley – Bolton Abbey – Skipton – Malham
The Malham Tarn Shuttle service will also run between Skipton, Malham, Malham Tarn and Settle on Saturdays from 7th July until 1st September 2012.
Village Enhancement Project
Kirkby Malham Parish Council, Malhamdale Initiative and The Yorkshire Dales National Park have succesfully applied for funding through the Yorkshire Millenium Trust LEADER Project to imrpove the Post Office Clapper Bridge in Malham and road signage around the Village. You can see more about the project here Kirkby Malham Parish Council.
Malhamdale Meander Saturday 12th May 2012
A choice of 2 walks, 23 miles and 9 miles through some of the most beautiful scenery in the country. Registration at Kirkby Malham Village Hall on 12th May. All entrants must be registered by 8:00am for a prompt 8:30 start. The 23 mile Meander is a circular walk starting and finishing in Kirkby Malham. Walkers should be reasonably experienced to tackle the course. There are a couple of hills to negotiate. The 9 mile "Mini" Meander is an ideal opportunity for Children and Parents alike to enjoy the open air and magnificent Malhamdale scenery. (All children must be accompanied by an adult). At the end of the walk all entrants are rewarded with a hot meal at Kirkby Malham Village Hall. All profits go to the Church and School, so it's well worth the effort. Entries £10.00. Under 16 and over 65, £5.00. Contact John Milner on 01729 830588 or visit Malhamdale Meander for further details and entry forms. Entries before the day are welcomed.
Kirkby Malham School Play - Pirates of the Curry bean
Thursday, 21st July 2011, 7pm, Victoria Hall, Settle Kirkby Malhamdale School
The Dales, Series 1, ITV
The Dales on ITV, a follow up to the succesful series The Lakes starts on Monday the 27th March 2011 and features local black smith Annabelle Bradley and The Buck Inn, Malham.
Martin Dorey's One Man & his Campervan visit Gordale Scar for the BBC
more info on The Yorkshire Chorizo Blog
Olly Smith's Secret Supper Club on C4 at Malham Tarn
more info on The Yorkshire Dales Food Blog
Oxfam Trailtrekker
Sign up to take on the UK's most awe inspiring charity challenge in the Yorkshire Dales
The search is on for entrants to sign up for the challenge of a lifetime in one of the most respected team endurance events in the UK to raise money for the charity's work.
Trailtrekker, now in its third year, starts at the gateway to the beautiful Yorkshire Dales in Skipton, on Saturday 4th June 2011. It continues in a loop through the stunning National Park, past Malham Cove and Pen-y-ghent before looping round past Buckden and Conistone to finish the following day back in Skipton.
The event requires teams of four to walk through the night to complete the course in 30 hours - the average time taken to complete the Trailtrekker course to date is 28 hours. 164 teams took part last year and raised £325,000 to help overcome poverty and injustice around the world.
Oxfam spokesperson James Terry explains: "This really is an epic adventure which offers a once in a lifetime chance for people from all walks of life to achieve something really amazing.
"The route is challenging and requires determination and team work, but the personal sense of achievement, new friendships made and the reward of helping to raise money for such a great cause, make every step worthwhile."
Follow "The Trip" by "DalesBus!" over the Festive Season
If the recent BBC2 TV series "The Trip" starring Steve Coogan and Rob Brydon and Ben Fogle's recent "Country Tracks" exploration has inspired you to explore the Dales, DalesBus offers you some great opportunities over the festive season. Services depart Leeds Bus Station at 9.20am via the University and Otley for Ilkley, Bolton Abbey, Grassington, Kilnsey, Kettlewell and Buckden and on the Cravenlink service between Ilkey and Skipton (including some journeys via Bolton Abbey and Embsay) on Dec 27th & 28th and January 2nd & 3rd. Cravenlink offers connections with trains at Ilkley and Skipton Stations from Leeds, Bradford, Shipley and Keighley and it will be the only bus service in the area on New Years Day when it runs from 10am.
If you wish to follow in the footsteps of Steve, Rob and Ben and be inspired by the grandeur of Malham Cove and its limestone pavement, DalesBus will serve Malham on December 27th whilst Upper Nidderdale, including the Yorke Arms at Ramsgill, is served on Jan 2nd.
To whet your appetite, DalesBus is launching a Winter Lunch Promotion on Dec 27th with some great oprizes to be won, including a framed Dales print and free entry to Kilnsey Park and How Stean Gorge for the lucky winners. DalesBus Ramblers offer guided walks if you prefer to let someone else plan your day out.
Concessionary pass holders travel free or you can buy a Southern DalesRover ticket for just £7.50 and take up to two children free with you. MetroCards are valid on DalesBuses from West Yorkshire to Wharfedale and Malham on Sundays and Bank Holidays. Students can buy a Dales Rover for just £5 if they show their NUS card. Single and return fares are available for shorter trips and no booking is required – just turn up at the bus stop, signal to the driver and "Go DalesBus!"
For full details of all timetables and the Winter Lunch Promotion pick up a free Metro Winter DalesBus timetable from your local bus or railway office, library or tourist information centre; go to www.dalesbus.org or call Metroline on 0113 245 7676.
Steve Coogan & Rob Brydon in The BBC's The Trip visit Malham
During February 2010 The BBC filmed The Trip about a restaurant critic Steve Coogan & friend Rob Brydon visiting a selection of our best Northern Restaurants including L'enclume, The Inn at Whitewell, Hipping Hall, The Angel & The Devonshire Arms. Whilst in Malhamdale the pair visited Malham Cove, the limestone pavement, Malham Tarn and Gordale Scar. The series is due for transmission in November 2010.
A brief sketch about Malham Cove & Limestone Pavements from the BBC's "The Trip" with Steve Coogan
Harry Potter and The Deathly Hallows
During November 2009 Warner Brothers moved into Malham, staying in The Lister Arms and filmed scenes for the latest film in the series, Harry Potter and the Deathly Hallows, footage was taken all around Malham including Malham Cove, the limestone pavement, Malham Tarn and Gordale Scar. The film is due for release in Novemeber 2010, watch out for the Malham scenes!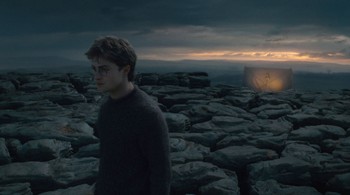 Photo © Warner Bros
2010 "Slow Art in the Dales"
As part of "Slow Art in the Dales" there is the art installation at the bus stop in Malham. By Steve Gumbley it is titled Travelling Light and is an "outdoor sculptural installation celebrating the use of public transport."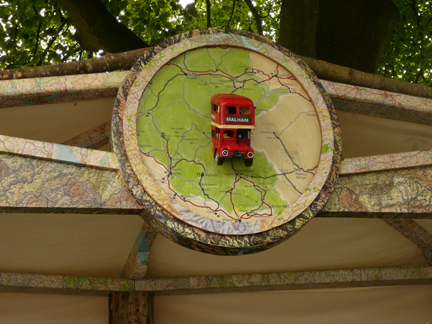 Photo © Peter Sharp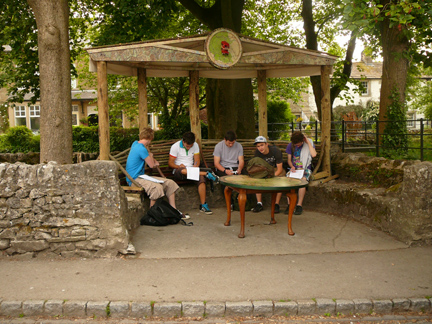 Photo © Peter Sharp
CAVE RESCUE ORGANISATION 75th Anniversary
During 2010 the team celebrates its 75th Anniversary of becoming the first active Cave Rescue Organisation (CRO) in the World.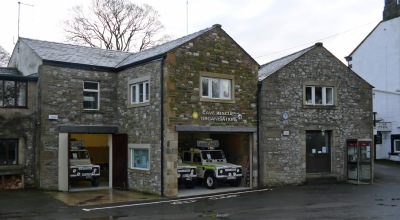 We are one of only three teams in the UK who perform Cave Rescues as well as Mountain Rescues. Our volunteers come from many walks of life in the Dales. We are a team in more ways than one and indeed we have fathers, daughters, sons, husbands, wives and mothers and even the granddaughter of one of rescuers who was actually on the rescue in 1934 which caused the CRO to be formed.
Many members have given over 25 years of service with some over 40 years and one member over 50 years continuous service. Very few teams if any can match these statistics of long term dedication in helping those in difficulties above and below ground.
The camaraderie of such long serving members has played a major part in the team dealing with the tragedies and the highs and lows of our work. On several occasions we have had to deal with 6 incidents in one day and some occasions 4 incidents simultaneously. Indeed a large number of the team spent two weeks at Lockerbie when that tragedy occurred.
Since 1935, the CRO has attended more than 2,266 incidents. This has involved 3,320 people (aged from 5 months to 87 years). During 2009 we attended a record 88 incidents, of these rescues, 15 involved caves, 59 fell, 5 climbing, 6 animal, and 3 others. It is anticipated that we will rescue our 3400th individual in the coming months.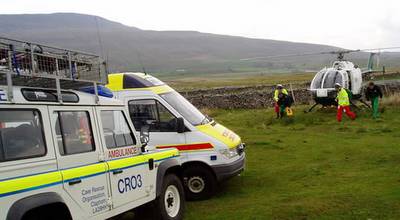 The team is a major part of Dales Life and indeed our own survival over all these years has been thanks to the generosity of many people, organizations, businesses and the statutory authorities.
Last summer we added a £130,000 extension to our Headquarters at Clapham updating our training, control and storage facilities which now benefits one of the premier rescue organizations of its kind, in the world.
The origins of the CRO are recorded in minutes of a meeting as detailed below.
On the 13th of October 1934 an accident occurred in Gingling Hole on Fountains Fell to a Mr Weetman of the Northern Cavern and Fell Club. He had dislodged a boulder on the scree slope in the final chamber which had rolled down and trapped his leg which was broken in two places. The subsequent rescue then took over 24 hours.
Consequently a meeting of all involved was arranged as described briefly below.
I believe the following evidence makes the CRO the oldest cave rescue team in the world.
Evidence from various records shows that the CRO was formed as a result of a meeting on the 24th November 1934 @ Rock House, Settle. North Yorkshire. ENGLAND
The following information was gleaned from the Cavern and Fell club 1934 log book :
"Report of meeting held at Rock House, Settle on Saturday evening, the 24th November 1934, with respect to the suggested rescue organisation" and from the original note book used by Cliff Downham to record date of letters sent, cost, with a brief note of contents.
The actual text is three pages long and the notebook has numerous pages detailing cost of correspondence etc
That Meeting was attended by representatives from all the major clubs at the time.
The Yorkshire Ramblers Club. The Northern Cavern & Fell Club. The Moor and Fell Club. The Craven Pothole Club. And Giggleswick School and Settle Ambulance Corps
The Gritstone Club and the Leeds Cave Club were not represented but previously intimated their willingness to cooperate.
At that meeting on the 24th November 1934 the following were appointed ;
Rescue Wardens : Mr Norman Thornber, Mr Reg Hainsworth, and Mr Godfrey Wilson. Hon. Secretary, Mr Cliff Downham. Press Correspondent, Mr Norman Thornber. It also agreed the purchase of necessary equipment.
The Hon Secretary was asked to communicate to the Police when the Rescue Organisation was fully operational.
On the 5th January 1935 a letter was sent to PC Elliott at Settle Police station regarding cooperation on rescues.
Further written communication took place on February 12th 1935 when 21 circulars were sent informing hostel keepers, farmers re. "Existence of the Organisation." Therefore it would not be unreasonable to say that the CRO was operational on the February 12th 1935.
The Central Rescue Committee was transformed into the Central Rescue Organisation just before it became operational on February 12th 1935. Three years later, in 1938,it changed its name to the Cave Rescue Organisation.
During the late 1940's the Ingleton Fell Rescue Team was formed and a lot of well know local characters became members. Some of these were :
Gordon Barker, Andrew Dodger Brown, C. Burke, H.Howson, Cliff Humphries, Bernard Robertshaw, Frank Royston, Reg Hainsworth, A.L.Salter, Harry Tomlinson, H.Schofield, Peter Walker, Sgt Bill Nock, Dr.J.Dowell, Bill Hinde, Jim West, Alan Greenbank, M.Rowling, F.Holmes, John Brown, Colin Hilton, Michael Storey, S. Garton, A.Burtt, Frank Christian, C.E.(Ned) Brown, Dr Tait & J. Charlton.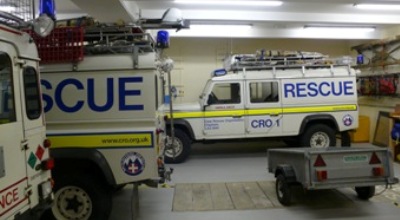 To celebrate the occasion of our 75th Anniversary on 5th June 2010, CRO are having an open day at the HQ Clapham when we expect to have various events such as, a rescue race in the river, an all day BBQ, media show, equipment demonstrations and much much more… . At 1.00pm we are to have the official opening of the extension. Come along and tell us your rescue stories, please bring any press cuttings and photos or photographs you might have. Everybody is welcome to just turn up – and especially any prospective new surface and/or underground members or anybody who would like to become just a Friend to the CRO.
Later in the year, on Friday 19th November we are having a more official dinner in the Community centre at Ingleton, along with invited guests. Any past members out there who would like to come – don't waste time please get in touch with Sean Whittle

Jack Pickup - CRO Chairman
Malhamdale, Yorkshire Dales & Settle to Carlisle Railway on BBC Countryfile
Malhamdale, Yorkshire Dales & Settle to Carlisle Railway on BBC Countryfile. Catch up with Countryfile in Malham on BBC iPlayer
Malham Cove now on Google Street Map
Have a look at Malham Cove on Google Streetmaps and walk along the footpath to the cove!
View Larger Map
A colony of rare cave spiders in Malhamdale
A colony of approximately 150 large cave spiders are being moved back to the original cave in Malhamdale from the Field Studies Council National Trust property at Malham Tarn where they were accidentally moved by archaeologists ten years ago. Video and full story on the BBC website
World Famous Climber on Malham Cove
Chris Sharma at Malham, big news in the world of climbng, an internationl climber, probably number 1 or 2 in the world at the moment comes and tries one of Steve Mclure's routes at Malham Cove and thinks it's good! worth coming back for! this means a lot to british clmbing. More Climbing information around Malham or See full article on the UK Climbing website.
Malham Show - Sun and Record Crowds
This years Malham Show had some last minute changes to layout due to waterlogged fields but turned out to be one of the best, with many comments on the revised layout being a great improvement and record crowds attending on one of the few sunny days of the summer. Malham Agricultural Show Website with results for Fell Race, Trailquest and Sheep Dog Trial or check out the Craven Herald online report See full report on Malham Show in the Craven Herald
Summer Sunday Buses to Malham
I'm pleased to advise that a direct bus service from Skipton to Gargrave and Malham will operate on Sundays and Bank Holidays from 6th July until 14th September 2008, which we hope will be popular with visitors and local residents. This service builds on the success of the "Dales Experience Bus" which operated on a limited number of dates last year. If the new service is popular we hope to be able to provide a monthly service throughout the winter months. Please find a link to an updated summary bus timetable for Malham, including details of the new service, and also recent changes to the timing of the weekday PostBus service. I would be grateful if you could please place this information on display. The timetable is available online at www.dalesbus.org
Peregrine Chicks take off!
The 2 Peregrine falcon Chicks hatched ealier in the season have now both made maiden flights at Malham Cove reports the RSPB viewing point Blog and the Peregrine Parents will now be active teaching the fledgling chicks how to fly and hunt and become the fastest bird's around. For more info see our RSPB Peregrine Pages here and get down to the Cove and have a look. Also the Kite that we previously reported spotted in Eshton has now been seen at the Cove.
Big Green Challenge
The National Endowment for Science, Technology and the Arts (NESTA) have announced that Malhamdale Renewable Energy Group has made it onto the 100-strong nationwide shortlist competing for a slice of its million-pound Big Green Challenge prize fund by coming up with innovative ways to tackle climate change in their communities.
The Malhamdale Group aims to cut its carbon emissions with its Carbon Watchers project. Based on the Weight Watchers concept, priority will be given to cutting out wasteful energy usage, then making further cuts in greenhouse gas emissions by encouraging the take-up of a range of renewable energy technologies as well as implementation of community micro-generation and heating projects.
Selected from hundreds of initial entries received by (NESTA), the shortlist comprises a diverse array of groups including local network organisations, schools, charities and social enterprises. Malhamdale Renewable Energy Group, which has been in existence for four years is part of Malhamdale Initiative, a local action group formed following the Foot and Mouth outbreak of 2001, with the objective of bringing about a more sustainable future for the dale. With funding from the National Park Authority's Sustainable Development Fund, the group has already completed an Energy Study of the area in association with the Centre for Alternative Technology. This has identified a strategy for introducing locally available and sustainable sources of fuel and power.
The shortlisted groups now have until the beginning June to complete more detailed plans about how their ideas will work and will receive access to a range of experts to help them.
Malhamdale's Carbon Watchers are hoping to make the cut when the top 100 groups are whittled down to ten finalists in July, each of whom will receive up to £20,000, plus advice and support to get their green projects up and running over a year. The groups with the most imaginative and successful approach to cutting carbon emissions at the end of the competition will win a share of the £1m prize up for grabs.
Speaking of their success, Sandy Tod from Malhamdale Renewable Energy Group said: "We are thrilled to have made it through to the next round of the Big Green Challenge. Carbon Watchers could make a real difference in the local community and beyond. In bringing affordable, sustainable energy technologies into Malhamdale we have to respect the local environment and scenic beauty. Our Energy Study has provided us with a Plan for dealing with this. I see Carbon Watchers as a means to implement that Plan and the Big Green Challenge is a unique opportunity to make it a success. We already have the support of the National Park and we now need full support for Carbon Watchers from the community."
Malham Safari Folk Evening
The Malham Safari Committee are delighted to announce we are holding our first ever 'Safari Folk Evening' at The Lister Arms Pub during this years Safari event in Springbank Holiday week. The Folk Evening will take place on Wednesday 28th May (6.30pm until midnight)and will include a warm buffet and live music by the Settle folk duo 'Keepers Fold'. Tickets are priced at just £10-00 with under 12's admitted free of charge. Tickets are available at The Lister Arms Pub or from a member of The Malham Safari Committee. Please do come and join us for a fantastic evening of entertainment. All proceeds go to Kirkby Malham Primary School, St Michael the Archangel Church, Kirkby Malham and Malham Chapel. We look forward to seeing you for a great evening!
Red Kite spotted in Malhamdale
An eagle eyed inhabitant of Airton spotted a Red Kite near Eshton Yesterday 13/2/08, this is the first confirmed sighting in this area. Red Kites were extinct in the UK until there reintroduction a few years ago. Red Kites are unlikely to be confused with any other UK species. They are large birds with a distinctive forked tail. They have a wing-span of around 150 centimetres (5 feet) and a length of around 60 cms (2 feet), yet they weigh little more than a kilogram (2.20lbs)!
If you see a Red Kite in Yorkshire away from the Harewood Estate release area please report it to the Yorkshire Red Kite Project Officer, on 07702 891480 more RSPB information on the Malhamdale Peregrine Falcons. or take a look at the Red Kite website
Malhamdale Renewable Energy Survey Published
Following the Malhamdale Energy Audit a report has been researched and published, find out more on the Malhamdale Renewable Energy Group pages.
Polaris MTB Mountain Bike Challenge comes to Malham Saturday, Sunday 6th and 7th October 2007
Malham Show Field will host the Autumn Polaris Challenge this weekend when over 300 Mountain Bike Riders will descend! on Malham to complete 2 days of orienteering on bikes around the lanes and tracks of Malhamdale, for the first time this year it will include a night time navigation section. For more info see the event website here Mountain Bike Polaris Challenge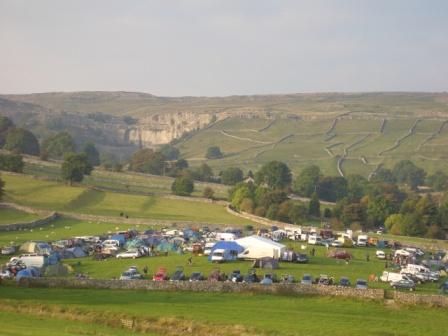 Press Release Malham Show Saturday 25th August 2007
Malham Show will take place as usual, on Bank Holiday Saturday, the 25th August but, due to the current restrictions, without cattle and sheep.
Although the cattle and sheep will be missed this year, there remains many other events and attractions for our visitors. These include the Malhamdale Falconry Display, Farmers Market with childrens cookery demonstration, Working Hunter horses, Go karts, climbing wall, donkey rides, childrens sports, the famous fell races and much much more. The art, handicrafts and horticulture sections include up to 1000 entries in the marquee which sits adjacent to the busy craft tent. Malham is a traditional show which this year celebrates it's centenary, this tradition is reflected on the show field where you will find heavy horses, vintage cars and tractors, demonstrations of traditional crafts such as rope making & dry stone walling, Punch & Judy, fancy dress and Tug of War. More up to date events include a Tyke Trial Cyclo demonstration, a climbing wall and a National League Trailquest mountain bike event. The show committee regret the loss of the sheep and cattle classes for this year but believe that the visitors to the show will have a fun and interesting day out. We would encourage people to visit Malhamdale on show day and support their local community whilst enjoying a lovely day in a beautiful setting.
Malhamdale Horticultural & Agricultural Show Committee 10th August 2007
(Entry Fee £6, children under 16 free, free parking)
Chairman Mr C Wildman 01729 830529 Assistant Secretary Mr M Spence 01729 830445 Advertising/Press Secretary Mrs J Smith 01729 830406 Trade Stands Secretary Mr & Mrs S Peel 01729 830684
Skipton Building Society Children's Cookery Theatre at Malham Show
Malham Show, 25th August 2007, Skipton Building Society Children's Cookery Theatre at Malham Show, Become a mini chef for the day! Learn more about where our food comes from and enjoy making healthy pizzas or decorating carrot cake muffins and cookies. Foodie fun with Skipton Building Society and Feast! The children's cookery theatre sessions will be running throughout the day in the marquee next to the farmers' market and are free. More about all the attractions and events at this years Malham Show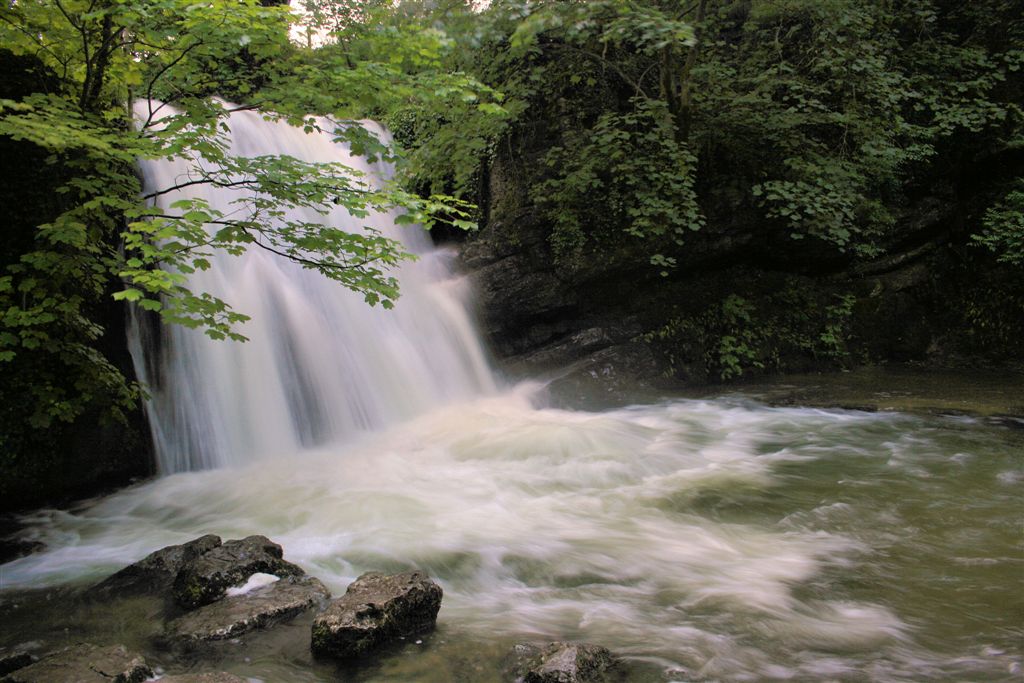 Life's Images - Matt Jackson Local photographer Matt Jackson, based at the Yorkshire Dales Trekking Centre has recently turned full time, and is using Malham as the perfect base to inspire his work. The combination of fantastic scenery, wildlife and variable weather makes each day in Malhamdale unique and never boring for a photographer. More about Matt's photograph's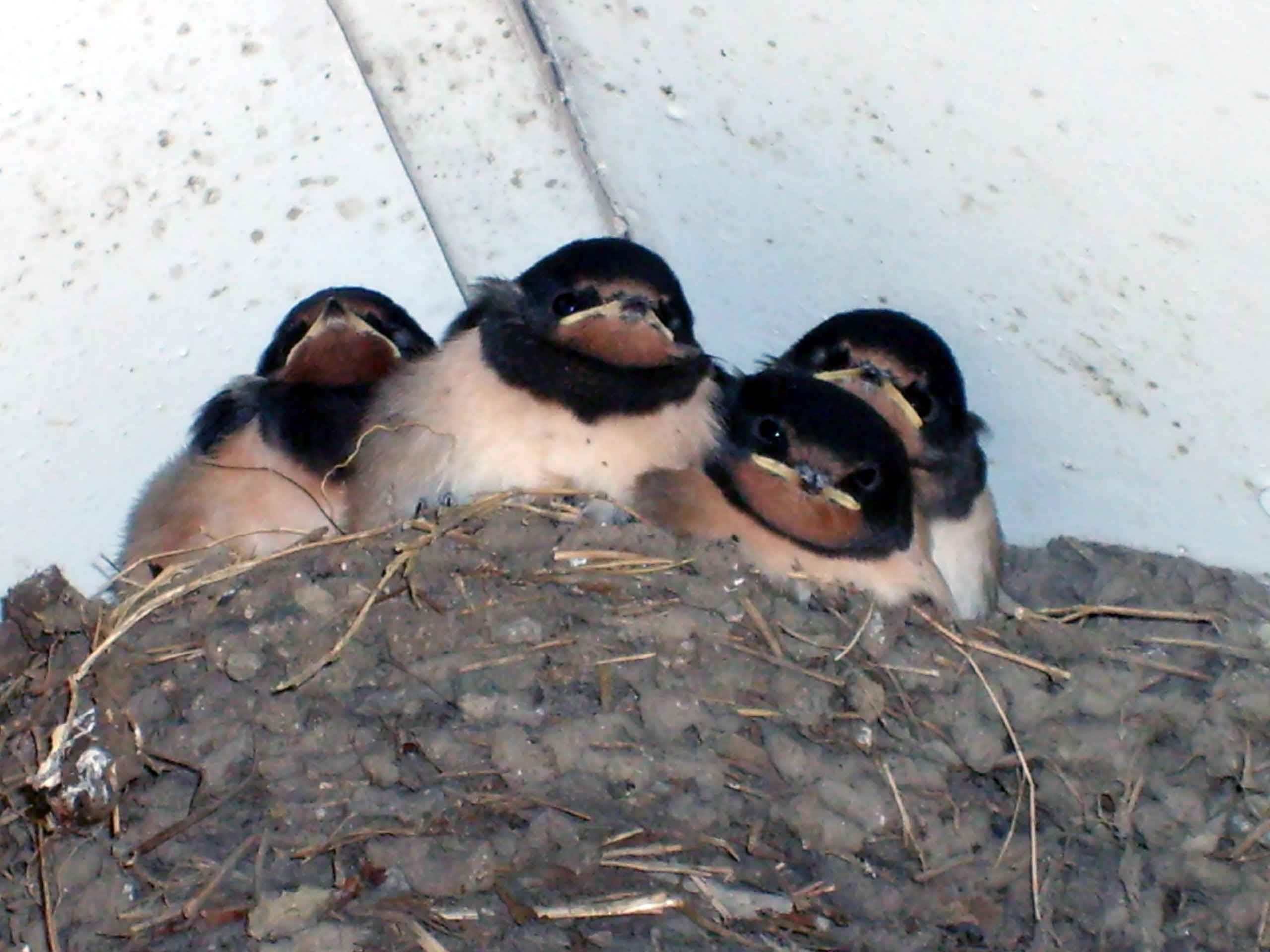 Malham Village Hall Resident's The Swallow Chick's in Malham Village Hall appear to be thriving if this photo taken on the 26th June 2007 by Sandy Tod is anything to go by !
Malhamdale Summer Ball 2007
Malhamdale Ball held in July 2007 raised over £28,000 in aid of Kirkby Malham School and Airedale Children's Unit Appeal, for more information and photos from the night click here
Peregrine Falcons at Malham Cove 7th May 2007, As last year two peregrine chicks have hatched! The female is to be called "Sophie", The Little Owls are nesting in a Rabbit burrow and 3 Redstart nest sites are nearby. For more details on the Malham Peregrine Falcon's click here
Malham Smithy Grand Re-Opening David Crane and Annabelle Bradley invite everyone to the re-opening of the Smithy on Friday 20th April 3pm - 8pm, come and have a celebratory glass of wine, chat about old and new times and an opportunity to view a selection of hand forged items that are available for sale. If you have a commission you wish to discuss in the meantime please ring or call in if the doors are open. For more Malham Smithy information click here.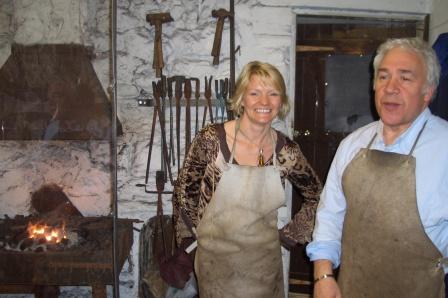 Yorkshire Dales Peregrine watch at Malham goes live Visitors to Malham will again get the chance to follow the fortunes of the fastest animal on earth - the peregrine falcon - as the Yorkshire Dales beauty spot plays host to a nesting pair.
The RSPB and the Yorkshire Dales National Park Authority (YDNPA) have teamed up to provide a special viewpoint at Malham Cove from which visitors can watch the spectacular birds. Last year around 28,500 people, including 3,500 school children flocked to Malham to watch the birds. The peregrines successfully raised two chicks, which were nicknamed 'Clint' and 'Gryke' after the limestone blocks and fissures of the Malhamdale landscape.
It is hoped that the birds will nest on the Cove again this year, and, from the 2nd April a team of RSPB and National Park staff and volunteers will be on hand every day to show visitors the birds. They will be setting up high-powered telescopes so that visitors can watch the progress of the falcons through the season.
The project is part of the RSPB's Aren't Birds Brilliant! Programme of events, which make rare and spectacular birds accessible for everyone to see. As well as the peregrines, visitors to Malham can expect to see green woodpeckers, little owls, redstarts and cliff-nesting house martins.
Ian Court, the YDNPA's species officer, said: "Peregrines are always a real crowd pleaser and we are delighted to be providing this exciting facility in the Dales. The response from the public to last year's Peregrine Watch was fantastic and we hope lots of people will take the opportunity to see these spectacular birds in a stunning landscape. It really is worth a trip out. "Malhamdale is a special place and peregrine falcons are special birds, so it's great that visitors to the area can now enjoy both by visiting the Dales Peregrine Watch at Malham Cove.
"For more Peregrine Watch Diary info click here.
Malham Tarn Field Centre 1947-2007
The Centre opened in 1947 with Paul Holmes as the warden. Sixty years on, the Centre offers a full range of courses for schools and adults – reaching over 5,000 students each year. In Celebration of 60 Years The Head of Centre and Staff invite past members of staff or anyone connected to the Centre to A Birthday Tea on Saturday 31st March 2007 2pm – 5pm. A time of sharing memories, meeting friends and a chance to see the Centre as it is now. A series of displays will illustrate the key events through the years and we are keen to add more memories to our archive.
RSVP If you are interested in coming, please get in touch with us: Malham Tarn Field Centre, Settle, BD24 9PU 01729-830331 e-mail us on enquiries.mt@field-studies-council.org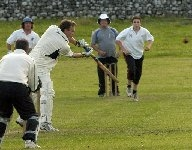 Yorkshire Post Report on Malham v Hartlington Match 13th July 2006 - Leather on willow in green fields of Malham by Chris Berry
Malhamdale Safari Supper
160 guests enjoyed a great night on the 8th July 2006 for the Malhamdale Safari Supper in aid of Kirkby Malham School, the event started at the School and then guests split off in all directions to the deepest corners of Malhamdale for starters and then on again for main courses. Desserts were served in Airton at the home of Jonothan & Lydia Phillip.
Malham Moor Broadband
The Malham Moor broadband scheme is in hand - Funding has been agreed and a planning application for the repeater station high on East Great Close is due to be determined in the next few weeks. This installation will be wind powered! (is this a first?). It will beam signals from the satellite dish at High Trenhouse over to Newhouse Farm, Lee Gate and Middle House. There are plans to extend the installation at Malham Tarn. We hope it will all be operational by September 2006.click here - Malhamdale Broadband
RSPB Aren't Birds Brilliant Peregrine project at Malham Cove
Tuesday 27th June 2006 The two peregrine chicks have taken to the wing for the first time!
The chicks, named 'Clint' and 'Gryke' by the viewpoint team (after the limestone blocks and fissures of the Malhamdale landscape) took to the wing for the first time last week, two weeks after making their first appearance.
Their public debut was on Friday 9th June, when they were seen at the mouth of the cave for the first time. With a perfect sense of dramatic timing, the two chicks made their first appearance just as BBC's Countryfile Summer Diary were filming the Falcon Watch project on Friday afternoon. The peregrines at Malham will feature in the new BBC TV series to be broadcast later in the summer, and BBC Countryfile presenter, Adam Henson, was one of the first people to see the chicks. For more information click here - Malham Peregrines
MALHAMDALE PLAN PROGRESS The Action Groups formed at last December's public meeting have met twice to draw up action plans to implement recommendations made in the Malhamdale Plan.
The Access Group is focusing on promoting public transport and looking into various ways of raising revenue from parking charges as well as joint car usage and developing footpaths and cycleways.
The Business Group, comprising both farming and tourism interests, is targeting joint marketing, local sourcing of food by local businesses, direct selling to visitors, constraints on business expansion, and the run down of local services including Malham's public toilets.
The Housing Group is aiming to work with CDC to meet affordable housing needs in a way that complies with National Park policies and meets the needs of the local economy.
The Recreation Group will shortly be compiling a survey of current facilities, halls, sports fields, meeting rooms, etc., the level of amenity they provide and current usage. Once this information has been collated we can then assess our local needs and, working in partnership with the various governing bodies help to improve these facilities as required and promote usage and sustainability for the future. The alternative of building a new multi-function community centre to augment or replace some of these facilities is also under consideration. Part of this survey will be to establish the need and requirements of any additional play areas for younger children in the dale and it would help if mums and dads would please get together and decide what playground facilites you would use and where they might be sited. Please let us know your ideas by contacting Sandy Tod in the first instance.
The Renewable Energy Group is developing an energy strategy for the Dale which involves a brief questionnaire, to be included in the May Parish News. This will investigate our energy demand and greenhouse gas emissions as well as current levels of building insulation. A separate survey will identify local renewable energy sources and how to exploit them effectively within the National Park's planning constraints.
Implementing the Malhamdale Plan needs your support. Don't wait for things to happen – if you wish to get involved or have any ideas please contact Sandy Tod on 830690 or by emailing Sandy
Click here for the latest Parish Plan News and Progress so far
Malhamdale Brochure Launched for 2006
The Malhamdale Brochure was published again in January 2006 fully updated with improvements to the map. Telephone the Brochure hotline on 01729-830890 or email brochure@malhamdale.com for your own free copy. Further information
NEWSFLASH - the 2006 Malham Show Mountain Bike Trailquest has been selected as a National event by the Trailquest Governing body, The Trail Cyclist Association
Round the World by Bike - Alastair Humphreys has arrived back into Malhamdale after his 4 year round the world trip on Beryl the bike(s), 50,000 miles, 5 continents, 50 countries Further information
Malham Show Trailquest Results The biggest ever field of 123 riders took part in the 5th Malham Show Trailquest on Saturday 27th August with the eventual winner being Liam Corner for the 2nd year running. Results
Malhamdale Summer Ball 2005
Malhamdale Ball held in July 2005 raised over £25,000 in aid of The Yorkshire Air Ambulance., for more information and photos from the night click here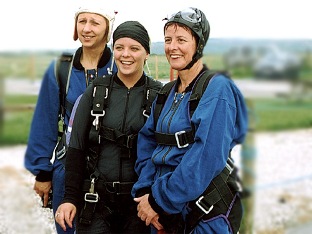 The Buck Inn Girls also made a superb effort and raised £4,000 on a sponsored sky dive in aid of The Yorkshire Air Ambulance.
RSPB Aren't Birds Brilliant Peregrine project at Malham Cove
Tuesday 12th July 2005, Patchy weather and some local road closures over the last couple of weeks have made things at the Cove a little quieter….at least on the visitor front. All roads to Malham are free flowing again and the peregrine pair is still living at the Cove. Sometimes they go off hunting for most of the day but usually they can still be watched at the viewpoint as they see off kestrels and other passing peregrines as well as enjoying the odd meal.
The green woodpecker and redstart families are still showing very well around the Cove and the spotted flycatcher is still around, though sighting it is an occasional treat! Our team have also enjoyed seeing a vixen ambling through the trees watching them!
Tuesday 28th June 2005, Despite some wet and misty weather through June, over 15000 people have been able to enjoy close-up views of the pair of peregrines who are both still showing well at the Cove. The pair are still hunting, sunbathing and generally enjoying their summer home in the Yorkshire Dales.
Sadly, just last night, the little owl family have left their nest, which was so well placed for the viewpoint! Over the last few days a magpie has been attempting to breach the nest where four young owlets were waiting to fledge. Although mum had so far been successful in seeing the magpie off, it seems as though she decided it was safest to do a moonlight flit last night as none of the owls are to be seen in the Cove vicinity today.
Wednesday 18th May 2005, The pair of peregrines at Malham Cove have had a bit of a rocky start this year so far and we are all waiting with baited breath to see how they get on. In March, a mature pair had clearly nested on the Cove and at least 2 eggs were spotted - great news! But sadly, an incredibly cold snap seems to have put them off and in April the nest was found abandoned and empty of eggs. Now, the same male and a new, much younger female are still looking very keen on making a nest at the Cove and so our fingers are crossed that a second clutch will be laid…..we'll just have to wait and see. They are showing well, however, using one of the Cove ledges as a larder and making food passes directly overhead. For more information click here - Malham Peregrines
High Tech Commentary on Malham Shuttle Bus
The Malham Tarn Shuttle Bus is now using satellite navigation technology to give passengers an historical insight into one of the National Park's most glorious locations. As passengers travel on the circular route from Malham National Park Centre towards Malham Tarn and then back again, an onboard Global Positioning System (GPS) tracks the vehicle's exact location. When certain points are reached the soothing voice of National Park Authority Interpretation Officer Kate Geddes relays relevant and interesting information to passengers. The innovative system means visitors who give their cars a break and travel on the 804T service will not only get superior views of the countryside over the high drystone walls; they will also learn more about natural wonders like Malham Cove, the famous limestone pavement and Malham Tarn. The innovative commentary system installed on the shuttle bus by the National Trust is funded by the Travel Awareness Regions Group for Environmental Transport (TARGET) project.
If you want your news listed here please e-mail us